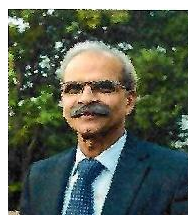 Message from Director IIT KHARAGPUR
Chairman JAB 2021, and Co-Chairman JoSAA 2021
My heartiest Congratulations to all the successful candidates of JEE (Advanced)2021 !
I must also congratulate the parents for their sacrifices in the historic achievements oftheir wards. Now you will plan for the next process of admission into llTs as well as other institutes of the country. The process is facilitated through JoSAA 2021 wherein you can have a choice of a large number of options to select from based on your rank. There will be a total of six rounds of counselling starting from October 16, 2021. In order to prepare you for choice filling and its finalization, two rounds of mock seat allocation have been planned. However, after two mock rounds any official choices filled by you can not be changed. The choice filling will continue till October 25, 2021 and the seat allocation of the first round will be declared on October 27, 2021. The seat allocation for the sixth round will be declared on November 18, 2021. Thus you need to exercise extreme caution in filling your choices for programs as well as institutes. Additionally, you are requested to exercise the options of withdrawal and exit from the complete process of JoSAA 2021 judiciously without fail. To help you get some idea of the past trends, the opening and closing ranKs of various programs and institutions are available on the JoSAA 2021 website for the last three years.
Wishing you best of luck in all your future academic endeavours!

Prof Virendra Kumar Tiwari
Director, IIT Kharagpur
Chairman, JAB 2021 and Co-Chairman, JoSAA 2021
Office : Phone : +91 3222 28200Z FaX : *91 32Z2 Z82000 E-mail : director[at]iitkgp[dot]ac[dot]in, vktfeb[at]agfe[dot]iitkgp[dot]ac[dot]in,prof[dot]vktewari[at]gmail[dot]com Residence : Director's Bunglow, IIT Campus, Kharagpur-721302, Phone : +91 3222 282003